Posts
read news about our recent trip to visit those affected by the Easter Sunday bombings in Sri Lanka
View Post
This summer I returned to Albania in late September but this time with my wife Jessica. I wouldn&rsq...
View Post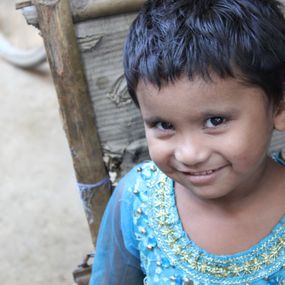 It is time again for some news and updates from the Rafa Homes in Delhi! And since we always t...
View Post
It is time again for some news and updates from the Rafa Homes in Delhi! And since we always tend to give you an update of the weather... well, as you might know,
April to June is Summer in Delhi and we slowly melted away with temperatures reaching above +45C... This year, we also had several extreme sand and thunderstorms
during May with wind speeds of over 100kmph. Many people in the nearby areas of Delhi died from falling trees and roofs collapsing. We are grateful that we
were safe. The storms brought in a lot of dust, and suddenly the air pollution levels increased again, and the city was on high alert. You can imagine that the monsoon was much longed for when it started at the beginning of July! Writing this, we have had two days of heavy rains, and the temperature is now only around +30. What a relief!
In this newsletter, there will be a bit of a photobombing... we were thinking it would be nice to show you a bit of the
children's environment and whereabouts...
Welcome, Amisha!
In July we welcomed Amisha to the Rafa Girls! Amisha is 16 years old and has lost both her parents. Her maternal uncle used to care for her. But as she is both HIV positive and a TB patient, it became too much for him and she was referred to us via the CWC (Child Welfare Committee) of the Delhi govt. Amisha is quite weak and malnourished. She was confined to her uncle's house growing up and has therefore not been to school. She is now settling into Rafa, has started proper medication, and we hope we can start her on some basic education track soon.

In the Garden...
Nearby the new house of the girls, New Generation Trust has a piece of land, where another one of our projects will build a house. Until that happens, the land is being utilized as a recreation area and community garden. We had help from some friends to build archways for creepers and a gardener made stone paths between the different sections. Then, different people and groups from the community planted what they wanted in their sections. During the spring, the girls had a lot of fun as they busily got to work there, first preparing the ground, then sowing seeds and plants, caring for the shoots and then- the excitement of harvesting! And now the Garden is growing and sprouting all over as the rains revive it!
"Chutti Chutti" - Summer
break and School kick-off!
Summer break begins when the temperature starts to soar, and the children were quite happy to get some time off. We mixed fun with work as the kids' study routine continued during the break. In this, we were greatly helped by a bunch of college students doing an internship with Commotion, our sister organization who supports us
with tutoring the kids.
It's during this break some of the children can go to visit their family or relatives. Mukesh went to see his aunt, who really looks forward to these times when he comes over. He told us that she cooked his favourite food, Mattar Paneer (peas and cottage cheese) several times during the visit...

Pooja and Mahesh spent time with their mother. She is also HIV+ and part of our community but unable to have the children with her full time. She works as a domestic help and is going with the family she works with to South India for six months. It was a bit of a bittersweet time for Pooja and Mahesh, as it also included a farewell for a longer
time.
Alongside the study sessions, we took time for outings and one time went to the nearby mall for a movie, to play in the fun area, and also, (we must confess) for the much-appreciated AC! We also had a lot of Art & Craft activities and later the boys got hooked on to the World Cup... it took a while as they are more into cricket, but as the tournament progressed, they got more and more excited and all picked favourite players and teams to cheer for.
The new school session started in the beginning of July and it kicked off on a high for some of our kids. In a Felicita-tion Ceremony at the school, Ramesh was awarded "Best Student in Art and Craft in Primary Section".
Sheetal was selected as a singer in the school choir. She loves singing and this was a dream come true for her.
A bit of a concern...

Health is as you know, a primary focus of our care at Rafa Homes. We are currently quite concerned about Shreya who has not been keeping well lately. She has high thyroid and is on medication for this. She also has problems with her tummy and we have put her on extra fiber intake. Not feeling well has affected Shreya emotionally. She really misses her family at times and feels discouraged. You can remember her a little extra in your thoughts and prayers this season!
Prayer

Thank you for your thoughts and prayers for the children in our Rafa Homes. We are so grateful! This time, we ask you to please join us in prayer for...
• Thanksgiving for Nidhi and Sanjit! Nidhi has been enrolled in a school for children with different needs. We hope this will help Nidhi grow in communication, perceptiveness and understanding of her world. Sanjit has completed his assessment at Children's First and we are seeing progress in how he relates to peers and recognizing emotions

• Administration to work out! We are currently trying to get birth certificates for all the children. This is important documentation for their future, but not easy to get hold of as parents and families are gone. We are working with the CWC to make this happen. Another administrative process we are waiting for is our Home licenses to be
granted, this is also done by the CWC

• ... Mahesh, Dhiraj, Priyanka, Khushboo and Anna as they struggle to cope with their studies. Pray that they will grow in confidence and enjoy the learning process

• ... Amisha and Shreya - not only to be healed from their illnesses. but also from the rejection that they have faced from their families

• ... More carers to join us at Rafa girls! This is a long-standing request. We have spread information and the job ad through our network and beyond, but it is difficult to find women who want to live-in and commit long-term to the Home
THANK YOU FOR YOUR LOVE AND SUPPORT!
The Rafa Home is a children's home in Delhi, India that has for over a decade provided a family for boys and girls in need. The Rafa Home is a work of the New Generation Trust, New Delhi, India Most of our children are HIV+ and currently seven boys and ten girls stay in the Home. To preserve the children's anonymity and adhere to the guidelines of the CWC (Child Welfare Committee, govt. of Delhi) all names are alias and photos do not show faces.