Posts
read news about our recent trip to visit those affected by the Easter Sunday bombings in Sri Lanka
View Post
This summer I returned to Albania in late September but this time with my wife Jessica. I wouldn&rsq...
View Post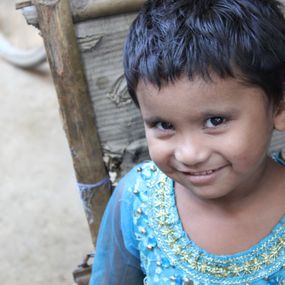 It is time again for some news and updates from the Rafa Homes in Delhi! And since we always t...
View Post
To all my dear friends and family,
Greetings to you all from Gran Canaria where we are at the moment, staying in a friend's flat until the end of October.
Enjoying our Sabbatical
We are having a lovely Sabbatical. We spent three months in Wales in Llanelli where we enjoyed the lovely summer weather, the beach, being a part of the Horizon's community and being close to Ffald-y-Brenin.
Mum's Health
Mum's health is so much better. She hasn't had a fit since January and her memory is improving slowly but surely. She is enjoying all the walking, swimming and beaches :) It's wonderful to have the time to focus on getting back to full health.
My Book being published
I've been working on my book during this Sabbatical and the good news is that Sovereign World are going to publish it :)
We've enjoyed having friends coming to visit us as well as visiting friends in the UK. The Lord has given us not only friends to love wherever we have been but also cats!! And we've celebrated lots of birthdays as we always love to do :)
We so enjoyed Jane Bull's wedding, as well as a school reunion and a retirement party for my Professor Joe Andrew from university :)
Trip to Russia - November/December
We are going to Russia at the end of November for Mum's birthday and to celebrate Christmas and New Year with the family there.
News from Russia is that the Mercy House has moved back into our main house and it is once again a refuge for ex-homeless disabled men, plus women and children. The prayer room is running and active again with periods of 24/7 prayer happening.
News From Our Refugee Families
Other good news is that Maria, the lady who lived with us from Senegal has made it safely home to her family in Senegal after years of praying and trying to get papers sorted out. The Ukrainian refugee family that lived with us made it home to the Ukraine thanks to the help of many of you. They managed to visit their parents and other family whom they hadn't seen for nearly four years as well as renew their passports which was a real blessing. Unfortunately, however, Alex was arrested by soldiers and Natasha had to pay a hefty ransom to get him out. They decided it was too dangerous to stay in Ukraine; they've made it safely to the USA and are living with my friend Judy (and Thristene and family!) while they try to get political asylum there.
Our Future
The only thing we are sure about for next year is an Easter Mission Week in Gran Canaria, where we will be singing and sharing our way from village to village ('Rend Collective style' as in their video on youtube 'Rescuer'). Everyone is very welcome to come and join us - the more the merrier! Please contact me for
more details.
Thank you for all your support and encouragement, we wouldn't be able to do this without you. We so appreciate every one of you. Sending you all lots of love and a big big hug,
Paula and Jo xxx
Prayer Requests
1. Complete healing and restoration for us both. Also for restoration of my Spanish residency documents as I've lost them and it's challenging to get them restored with no permanent address at the moment.
2. Guidance for the future.
3. Financial provision.
4. Trip to Russia, for visas, protection, divine appointments, a wonderful time with family and friends there.
5. For good relations between all the ministries in Russia, for protection and favour with the local police.
6. Our neighbour in Russia Tetya Valya (the 'cow lady' who used to sell us fresh milk from her cow) whose son Genna died suddenly this week. For comfort, help and provision for her as she can hardly walk or look after herself.
7. For our Ukrainian family to get political asylum, a job, a home and a future in the USA.
8. There is a possibility for me to go to Burkina Faso for three months from Jan to March to help a missionary family home-school their daughter. Please pray that if I'm meant to go I will be able to get all the documents I need and also for somewhere for Mum to stay during that time.
9. Our Easter Mission Week in Gran Canaria. For the right people to come, for anointing, wisdom,
protection, divine appointments and lives changed forever.