Posts
read news about our recent trip to visit those affected by the Easter Sunday bombings in Sri Lanka
View Post
This summer I returned to Albania in late September but this time with my wife Jessica. I wouldn&rsq...
View Post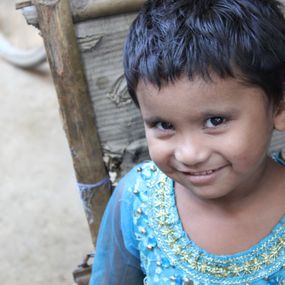 It is time again for some news and updates from the Rafa Homes in Delhi! And since we always t...
View Post
Karuna Visit to New Beginnings September 2018
This summer I returned to Albania in late September but this time with my wife Jessica. I wouldn't be British if I didn't acknowledge how lovely the weather was in September, Just beautiful!
It was a huge privilege to be there this time as on the first morning Paulin and Luli finalised the process of taking in another three children, all from the same family. Two girls, one 16 months and the other 4 years and a boy who turn 6 the next day. It was both heartbreaking and encouraging to see these little lost children go into a strange environment filled with happy children and adults that simply desire for them to get a better deal from life.
Paulin and Luli learnt about the children and their situation through one of the leaders in their church. It's a very tragic story. While seeking work in Germany, the family were forced to return to Albania. The mother could not cope with the thought of life in Albania, so she took her own life, leaving the father to return to Albania with three young children. The youngest, Rafaela (shortened
to Ela) a girl, was two months old at the time. After returning to Albania the father was caring for
the two older children, Ela (now 16 months) was being cared for by an elderly neighbour, who wanted to adopt her.


Thankfully Paulin and Luli were able to take them all in, they have been working for months with the father and local authorities. The day after we arrived Paulin and Luli were finally able to put a roof over their heads, hot food in their tummies and clean clothes on their backs (sounds like Isaiah 58:6-7 & Matt 25:35-40). The eldest is a boy called Dashmir (shortened to Deni) he is 6. The middle child is a girl, her name is Jonela (shortened to Jona) she is 4 years old. The three siblings are sharing one room to help them settle in, eventually the girls will go into a girls room and Deni will share with two other boys. After a few hours at the home Deni was really comfortable and so was Jona, the girls made a fuss over her and the boys took Deni under their wing.
It was nice to see the other children helping them settle in; I guess they know what its like to have your first day there. It was heartbreaking to see Ela, she was completely emotionless and slept a lot and couldn't be left alone. To see Luli in the thick of it was heartwarming as she wept for this little girl, she got down on the floor to play with the others and you could see the enormous love she had for them all.
It was great to see Paulin walking into the room as a loving father to all of them, as they line up to greet him, it's a family and one that they choose everyday, but one Paulin and Luli couldn't go without.
We continued to talk with Paulin about the future and how we can work towards their plans for the home to be transformed into a day care centre. We also planned for Paulin to come to visit the UK in May 2019. I will confirm dates when we have made firm plans. I appreciate there are many supporters and some who know Paulin personally so please bear with me as I try to make the most of his time.
We talked with Paulin and Luli again about fostering, something that isn't an alien concept to them personally. However, it is clear from hours of discussion and them explaining the nuances of Albanian culture why this kind of approach to childcare has the potential be more harmful to children. This is because children in the care of adults who are not their parents are at risk of physical abuse, which is seen to be discipline, being very prevalent, even celebrated, in the culture.
What I experienced at the home and what I picked up from Paulin and Luli confirms what I already knew about the New Beginnings Children's Home, they seek to raise children with Christian values at the core of everything, and 'family' permeates every moment of the children's upbringing. One testimony of this was on the Saturday when Erioni returned to the home to visit.
Many have been asking for individual accounts about the children. I wasn't able to get an account for each child in the home or the young adults that have left the home, but I have some news from a few below. Most of the older ones are scattered, working all over Europe from Belgium to Turkey, many settle in Italy because of work opportunities. The children in the home are not without their struggles but generally doing well and are really happy. Paulin said that some of the boys are finding school difficult and the older girls are beginning to become distracted.
Erioni left some years back after deciding carpentry wasn't for him. He has since moved to Turkey and is living and working there. Paulin had news from him that he had a girlfriend. Erioni came to the home that day to seek Paulin and Luli's Blessing to ask this young lady to marry him. Who travels from Turkey to Albania to seek the blessing from anyone less than family??? This is just one instance out of many that showed me that if I view this ministry as anything less than an example of Gods love and adoptive heart, I would be missing the point.
I was able to meet Gazi, he came to church and was prayed for. He has developed a relationship with a young lady who he intends to marry. Gazi, now in his 20's, always greets you with this beaming smile. He is another testimony of how the New Beginning's home has rescued a child from a horrific start in life. Gazi bears the scars on his face from
this, he is one of the original children from the days when Tony and Liz Treasure started the ministry in the mid-1990's. To this day that same ministry continues to salvage children from the wreckages of their upbringings.
Eda has left the home, although she had left when I was at the home last time and it was unclear what she was doing, my understanding is that she is close to he sister Bujana and her mother. She continues to stay in contact with Paulin and Luli and intends to return to church.
Joni, there is little news about Joni, he suffers with mental health issues and struggles to maintain his medication. Paulin told me that he stays in touch with Joni periodically and that he's still in Albania.
As I stated in my last letter, the children are not orphans so adoption and fostering is made more difficult as the parents are kept connected throughout their childhood. The children are only in New Beg inning's because the parents have conceded that they are unable to care for the child/children while things like education, healthcare and family support are necessary for them to gain a positive start in life. The parents are allowed access to their children, however, they hand the responsibility for the upbringing of the children to New Beginning's, to give them a 'new beginning'.
Please pray...
• For the three children Deni, Jona and Ela that they continue to settle in and that the transition goes smooth as they are introduced to a new life and that Ela begins to display emotions and becomes more settled.
• That finances flood in for the home. Increased support is vital while we work out the future.
• Paulin and Luli have miraculous blessings over the homes finances.
• That Paulin's travel plans slot into place for May 2019.
• That the finances needed for initial items purchased for three new children to come in - £600
• Eda continues to stay in touch with Paulin and Luli and that she makes some positive choices for her future.
• For Erioni and his new fiancé as they continue to plan for marriage in Turkey.
• Gazi that God continues to use him as and example of his redemptive love.
• Please pray that Joni's health gets under control and that he will come to a good place and can receive help.
Thank you so much for your continue love and support
for these precious children. Your support love and
prayers are dramatically changing lives and we sincerely
could not do it without your involvement.

Blessings

Simon Hannington
Director at Karuna Action